The Priceless Woman Study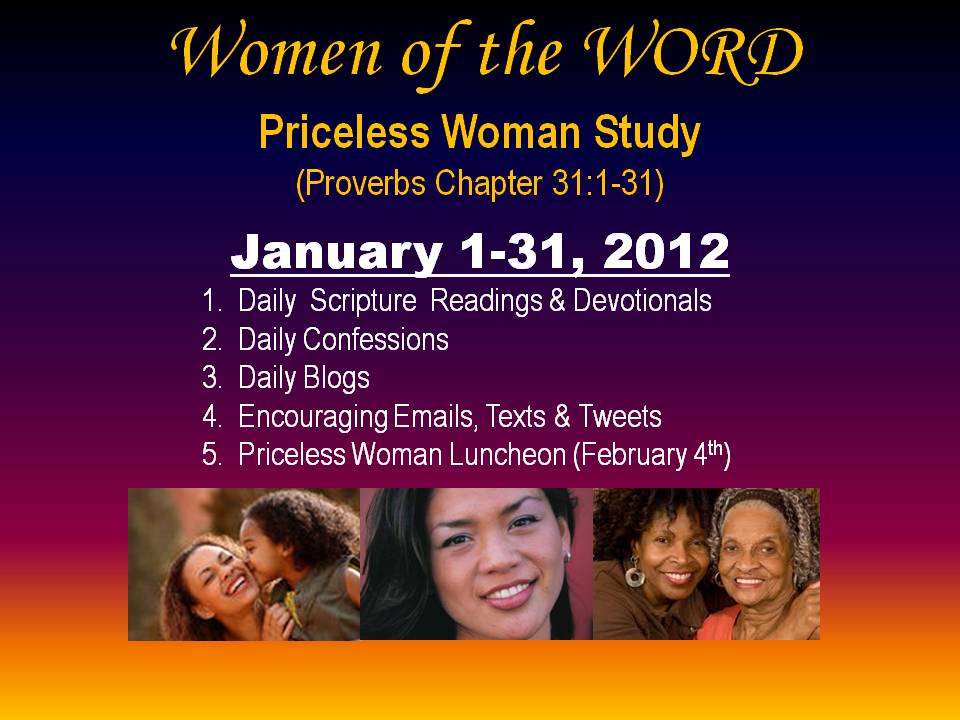 BACK BY POPULAR DEMAND!!! WELCOME TO THE PRICELESS WOMAN STUDY!!! After listening to Bishop I.V. Hilliard's CD series entitled
"The Priceless Woman,"
and completing his
"Maximized Life Journey,"
I was inspired to do a study of Proverbs Chapter 31 in a blog format. During the next 31 days, you will receive revelation from the Bible in this progressive study of God's leading example of the woman. Since God created the woman, only He has the right to define the purpose for her existence. As you read each Daily Verse and Devotion, hear the voice of God as if He were speaking directly to
you
. Listen for yourself and not for others, so you will receive everything God has for you. Make this your personal 31-Day journey toward revelation and understanding. By the end of the study, you will finally understand your true worth and value. Don't let the devil cause you to become offended and rob you of God's Blessings. Complete all 31 lessons by repeating aloud the "GEM FOR TODAY" and posting your comments on this blog.
If you miss a day, simply pick up where you left off, and keep on going. PROVERBS CHAPTER 31 WAS WRITTEN FOR BOTH MEN & WOMEN (MARRIED & SINGLE) TO UNDERSTAND, BUT FOR ALL WOMEN TO ASPIRE. Scroll down to click on Day #1 and embark upon this wonderful journey of self awareness and fulfillment. I'll rejoice with you at the finish line.
ALSO, JOIN ME FOR MY "Designing Woman Luncheon" at 12 NOON ON SATURDAY, FEBRUARY 9, 2013. (Watch for email notices announcing the location.) This will be a wonderful time of fellowship, fun & games, and prizes as we kick off my upcoming 30-Day blog study, "Woman Under Construction," beginning on Monday, February 11th. I look forward to seeing you there. ~Blessings, Pastor Wendy